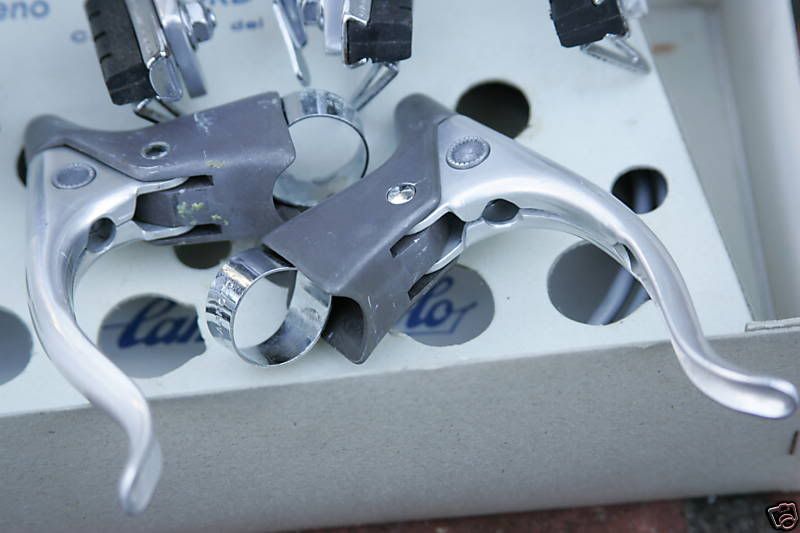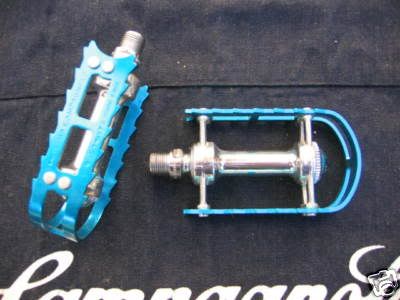 Thank you to the readers that forwarded links to these auctions. If you see something interesting, please let me know! velosniper@gmail.com.
This will be my last post for a week or so due to holiday travel. Thank you to all of you who read the site, I appreciate your time and feedback. Have a great week!
Campagnolo "No Name" Record Brakeset
: Sold for $979.80 including shipping.
Up for auction is a set of Campagnolo's earliest NR Brakesets. This set was sold by Peter Rich at Velosport in 1969 to a friend of mine for a Ron Cooper.
The brake center bolt is different on these early brakes. Note the early washer behind with a beveled front to clear the Campy headcup. The caliper arms were sublty different also. The brake levers have the round hole on the underside. The original hoods had shriveled like Linseed oil on the top of a old paint can and were really difficult to remove. The campy brake cables are new and original, She used White housings on her bike....the original literature is also in the box. The enclosed Campy hoods are my last set of original shield hoods and have been stored in a cool dry dark place since the late '70's. Only out for these photos. There is some slight pitting on the pad holder wheel guides and a small chip in the anodizing on the left side of the front brake caliper.
I've seen these go for over $1,200 without the box. Here's a theory as to why they have no logo, from
this CR List post
:
Masi said the brakes were "unnamed" because of a sponsorship conflict between Faema and Universal. Masi said Tullio Campagnolo wanted Merckx to ride his new brakes and Universal agreed only if they were not stamped Campagnolo in large photogenic type. Masi also said that Campagnolo offered to sell the patent to Universal. The folks at Universal declined because they didn't think anyone would pay the high retail price for them, they were about triple the price of Super 68s...

Campagnolo BMX pedals-blue
: Sold for $346.96 including shipping.
Campagnolo BMX pedals in blue. New,never used, never mounted.9/16 thread. Comes complete with the original, tattered box. And of course, very, very rare.
My first thought was that these were bound for someone's fixed gear, but as the reader that sent the link to me pointed out, there are serious BMX collectors out there as well.
I recall seeing these pedals on the rare and pricey Cinelli BMX bikes of the early '80s, as seen
here
(scroll down).